It has always been a challenge to conceptualize a design that will make a wine storage structure look beautiful. The most interesting trend among cellar owners is a modern-looking space. To achieve a more contemporary feel in your wine room, install metal racks for your displays. Vintage View Metal Racking Systems are the best types of metal racks in Chicago, and they come in customizable color and finish options!
Metal Racks for Contemporary Custom Wine Cellars
There is an assortment of wine cellar designs in Chicago. The style of a storage structure is largely affected by the type of materials used in its construction. For example, to achieve a traditional look and country feel for your wine room, wooden products have to be used. On the other hand, to create a more contemporary-style cellar, metal wine racks should be installed.
Display Wines on Label-Forward Metal Racking Systems from Vintage View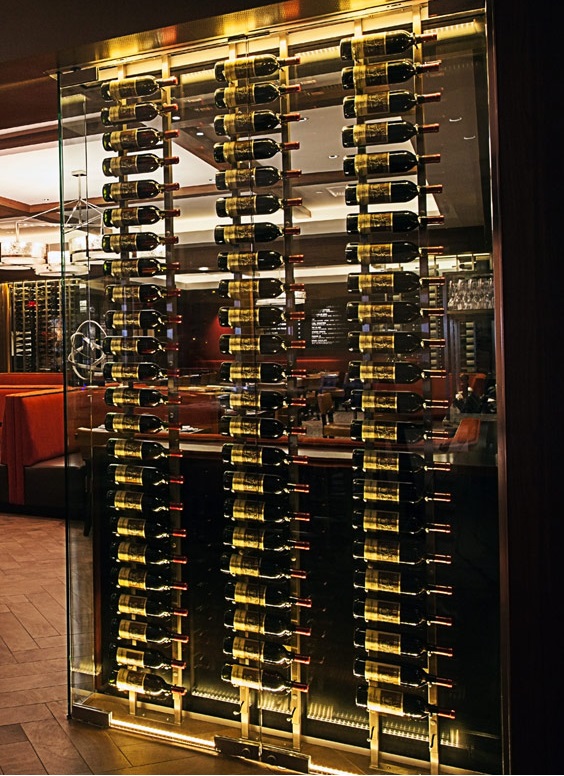 Custom Wine Cellars Chicago is one of the leading storage builders that offers the most durable metal racks for both commercial and residential installations. The racking systems we offer are part of the one-of-a-kind racking collection from Vintage View Wine Storage Solutions.
When you're looking for a certain wine in your cellar, how long does it take you to find the bottle that you want? The length of time you stay in the cellar can have an effect on the temperature and humidity balance in your wine room. The heat that your body releases can affect the coolness in the cellar. The consequences are worse if you consistently get bottles from your storage space. Constant opening of your cellar door can cause fluctuations in the climate conditions inside, which can damage your collection.
Vintage View racking systems display bottles with their labels facing you so that it's easier for you to identify your favorite wines. You won't have to spend too much time scouring the racks for a specific bottle. With just one look at the display, you'll be able to locate the wine you are looking for.
Wine and temperature are indispensable pairs. Without the right coolness, wine cannot age properly. There are times when the cool air can't reach the bottles that are kept in hard-to-reach areas in the cellar. The open airflow design of Vintage View racks allows the coolness in the room to circulate evenly around all of the bottles. This equal distribution of temperature throughout all of the wine storage structures helps protect your prized collection from damage.
1. Wall Series Vintage View Metal Racks
This collection of racks has a label-forward design and is offered in four standard heights and three bottle depths. This patented modular racking series also has options for magnum-sized bottles and other large-format wines.
The Wall Series is a great option for those who have limited spaces, because of its modular nature. Each module is stackable, which means that you can customize the configuration of the racks according to what suits your storage needs.
Vintage View Wall Series metal racks are made from high-grade steel. They are available in various finish options, including satin black, brushed nickel, chrome, and black chrome.
2. Vintage View Vino Series Wine Racks
Explore your artistic side and create your own storage design masterpiece. The Vino Series of metal racks is a modular type of system. The Pins, Rails, and Styx are minimalist, single-bottle racks. Instead of a linear racking setup, you can start with one rack and build on it, in order to create a display that can accommodate as many bottles as you want.
The Vino Series racks are available in the following finish options: milled aluminum, anodized black, brushed nickel, and satin black.
3. Vintage View Evolution Series Racking System
This collection is the evolved version of a freestanding rack. This modular racking system is made from a combination of steel rods and acrylic support. The fusion of these two materials – steel and acrylic – gives this storage display a unique, innovative design.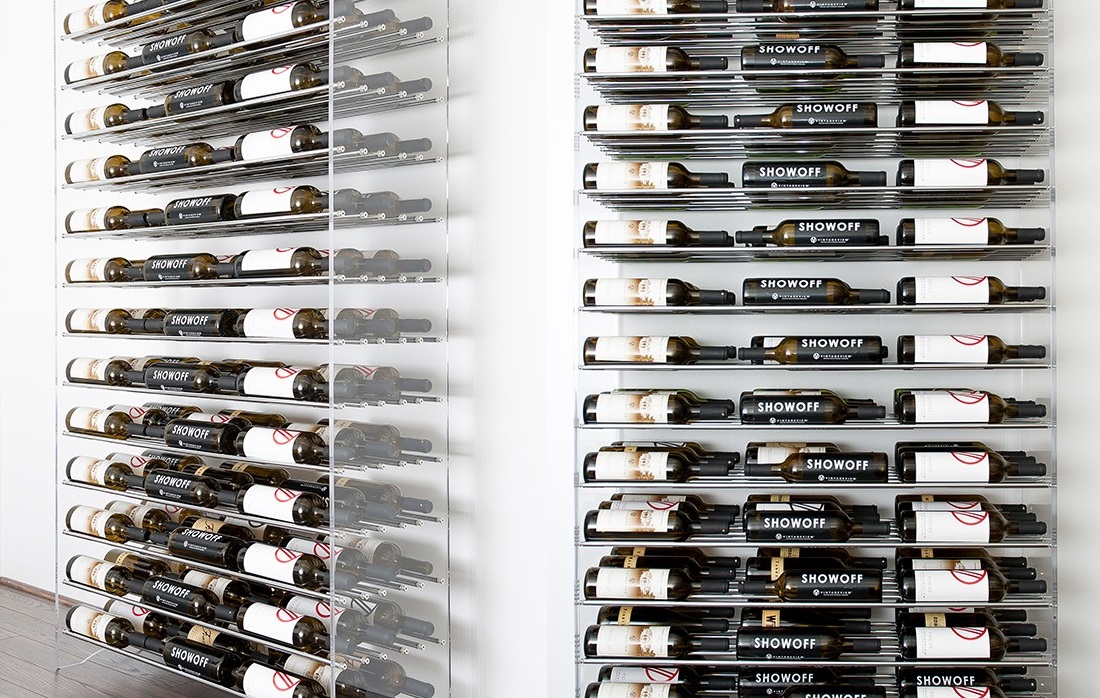 The racks in this series are lightweight because of the materials used in their construction. They are also easy to set up. Evolution Series racks are available in standard 4, 6, and 8-foot heights. You may also purchase extension kits if you need more modules to meet your storage needs.
4. Vintage View Floor to Ceiling Frames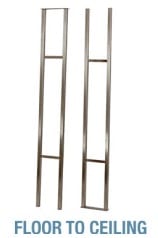 There is absolutely no limit on how you can store your bottles with these steel frames. With the Floor to Ceiling Frames, you can have countless ways to install the Wall Series racks! The state-of-the-art frames allow the racks to be installed around windows, on challenging angles, and on hard-to-reach heights.
You can also use these frames to build walls of bottles, which can be used as room dividers. You can build wine displays as high as any ceiling height with the Floor to Ceiling Frames. These racking systems are available in a variety of finish options, namely: chrome, brushed nickel, satin black, and black chrome.
Here's the Installation Guide Video for the Floor to Ceiling Frames
Complete a step-by-step guide on how to install Wall Series racks using the Floor to Ceiling Frames.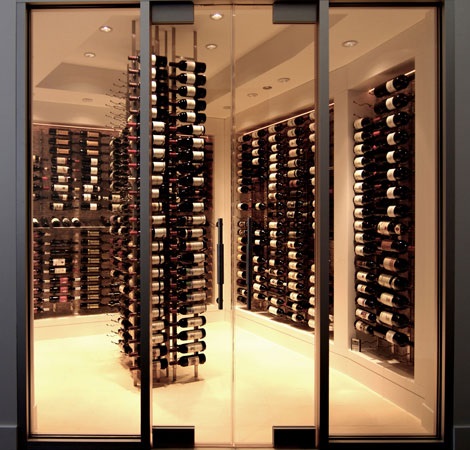 What you need to prepare:
• Frame to Ceiling Frames (FCF) Sections
• Base Plates
• Plastic couplers
• Self-drilling screws
• Wall series wine racks
• Phillips head screwdriver
• Tape Measure
• Metal file
• Pencil
• Level
• Drill
1. Measure Ceiling Height & Mark Frames
Tip: Check the ceiling height at multiple points to get a more accurate measurement.
2. Insert the plastic couplers into the open ends of one frame.
3. Lay the first frame next to the second.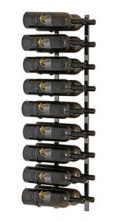 4. Position the frames. The total length should equal your ceiling height.
5. At the widest part of the coupler, mark both legs of the second frame. If the cut mark aligns with a cross rail, cut 2 inches off the frame with the couples and perform the measurement and marking again.
6. Using a non-abrasive metal saw, squarely cut both legs of the frame at the cat mark.
7. File the ends of the frame to smoothen them.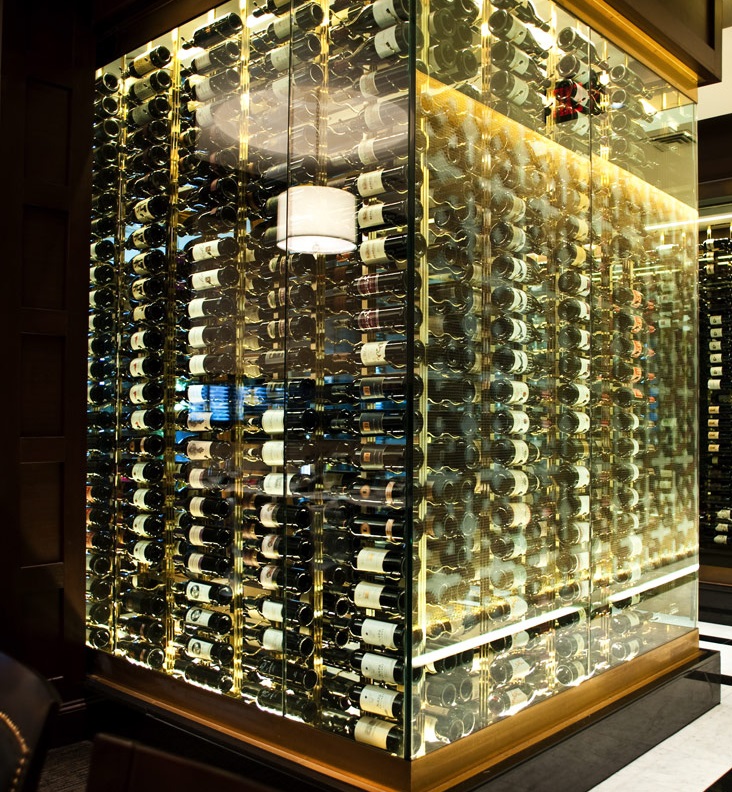 8. Slide the frame together.
9. Secure your wall series racks to the front and back of the frame using the self-drilling screws.
10. Ensure the joint is supported fully on both sides.
11. If you are creating a one-sided display, an Floor to Ceiling Frame Back is required for support.
12. Stand the rack in the desired location.
13. Attach your base plate to the ceiling.
14. Secure the base plate to the floor
Consult a Wine Cellar Design Expert!
Custom Wine Cellars Chicago offers consultation services for those who plan to have their own storage structure constructed. Whether you want the metal wine racks featured in this article or metal wine pegs that are fit for glass wine rooms or transitional cellars, we got you covered.
We take pride in having over a decade of experience in building high-end cellars for both homeowners and businesses. Our team of specialists can help you conceptualize a one-of-a-kind design for your wine room. Contact us today at +1 (773) 234-0112!