Wine Cellar Doors – An Essential Component of a Wine Cellar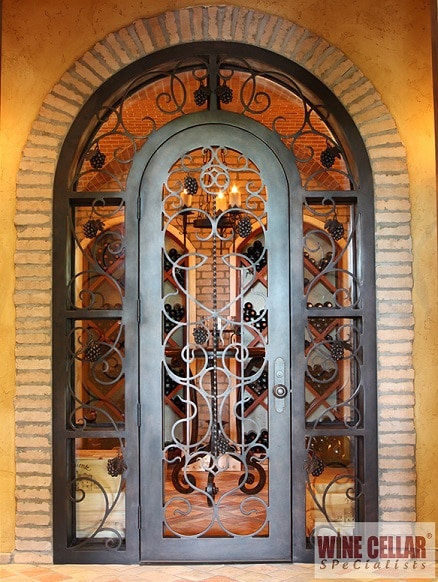 Wine cellar doors are designed to help maintain the proper climate conditions in wine cellars in Dallas Texas, and at the same time add aesthetic value to the space.  In order for wine cellar entryways to be functionally efficient, they need to have weather stripping on all sides, automatic door bottoms, and a tight overall seal.
Since wine cellar entry doors are a critical component of a wine cellar design, they should be functional and visually appealing at the same time. There are two types of wine cellar doors: wrought iron and wood-based entry doors. They are constructed from various materials such as wood, glass, and wrought iron. Each material has its advantages and disadvantages but is nevertheless designed to preserve the cool environment of residential and commercial wine cellars.
For wine collectors who want to present an old-world charm to their custom wine cellar, wrought iron wine cellar doors can create the desired visual impact and aesthetic appeal to their storage space.  Cellar doors made from wrought iron are hand-forged by skilled and experienced craftsmen.  These installations also provide a customized appearance that can complement the existing interior of a wine cellar.
Wrought Iron Wine Cellar Doors – Quality and Aesthetics
Wrought iron wine cellar doors in Dallas Texas are designed to secure the desired conditions for storing and aging wines.  They are custom-built to meet the needs and requirements of wine collectors.  Designs for these wine room entryways are conceived through auto cad drawings, which allow wine cellar builders to show detailed specifications, examine the end product, and make the required modifications before actual production takes place.
Wrought iron wine cellar doors in Dallas Texas are specifically engineered to withstand the elements and to provide optimum sealing.  They are constructed from combined 16 and 18-gauge steel, which ensures the amount of thickness necessary to keep up with the cool atmosphere.  Polyurethane foam is pumped into the entire door and frame to keep it well-insulated.
What the Team Did to Maintain The Optimum Temperature in A Wine Cellar with Wrought Iron Doors
To keep the door weather tight, foam and rubber weatherstripping is fitted snugly all around the door frame, glass frame, and door sweep.  Heavy-duty ball-bearing hinges are used because they are more durable and less noisy than standard hinges.
For additional insulating properties, dual pane tempered glass is used.  Dual-pane glass consists of two glass panes separated by air space.  Tempered glass goes through a thermal process that makes it five times stronger than standard glass.  It is also designed to break into oval-shaped pieces instead of shards.  Combining the characteristics of both produces a glass product that is not only energy-efficient but is also impact resistant.
Wine Cellar Owners Choose Wrought Iron Wine Cellar Doors for its Durability and Aesthetics
Wrought iron wine cellar doors come pre-hung on a custom manufactured steel frame.  They go through a series of weatherizing processes to protect them against outside elements.  Wrought iron entry doors are treated with layers of acrylic primer to inhibit oxidation.  In order to enhance the process of weatherization, additional layers of an acrylic black base, faux finishing, and sealant are applied.
Most design concepts for wrought iron entryways are a fusion of iron and glass materials.  Iron and glass wine cellar doors provide an elegant and dramatic portal to any wine storage room.  They are structures of style and character that can be enticing and appealing to the eyes.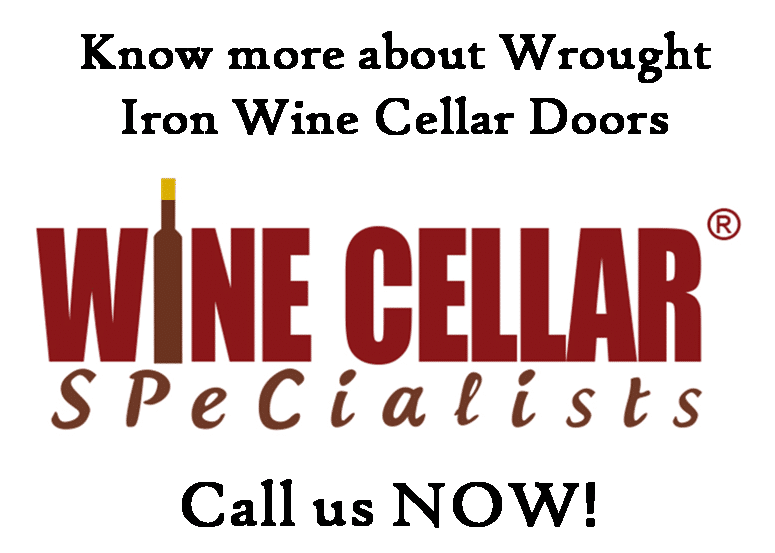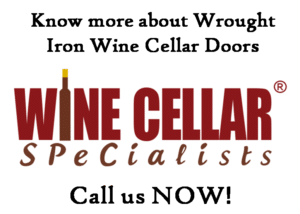 View more photos of wrought iron wine cellar doors on our Pinterest page. Or you can call us NOW if you need help in building your custom wine cellar.