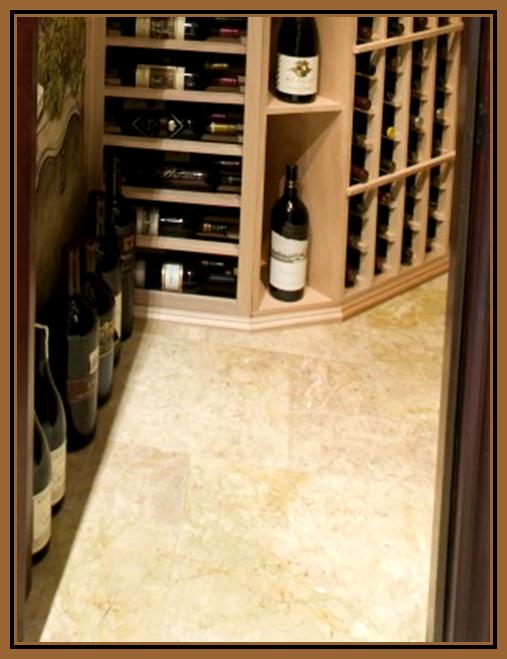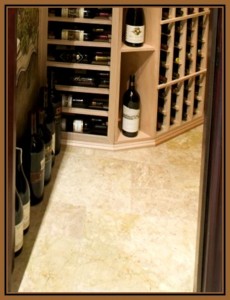 Wine cellar flooring is an important aspect of a Chicago wine cellar design.  It can greatly enhance the overall décor and ambiance of a wine storage room.
Wine cellar flooring comes from different materials such as wood, stone, tile, cork, and reclaimed wine barrels.  The only flooring material that is not ideal for wine cellars is carpet.  The cool environment of the storage space can promote mold growth in carpet fibers.
When deciding on the material for your wine cellar flooring, keep in mind that it should be strong enough to hold the total weight load of wine bottles and wine storage racks.  Although there are many flooring options available for Chicago custom wine cellars, two stand out among the rest – wine barrel flooring and cork flooring. It is because these flooring options are not only attractive but also eco-friendly!
Two Types of Chicago Wine Cellar Flooring
 Wine Barrel Flooring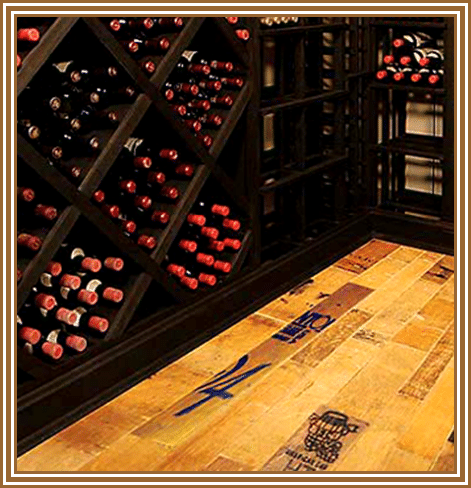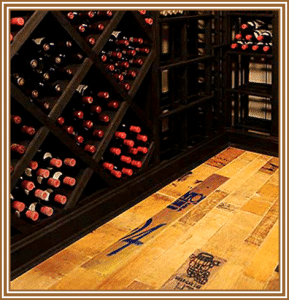 Wine barrel flooring comes from reclaimed oak wine barrels.  Oak wine barrels typically have a life span of about ten years.  After these wooden containers have fulfilled their purpose, they are dumped in landfills, sold as firewood, or used as planters.  However, a creative and environmentally friendly solution turned these seemingly useless old wine barrels into unique flooring materials.
Reclaimed wine barrel flooring has exceptional features and characteristics that create a one-of-a-kind appearance in any wine storage room.  Each component is unique and incomparable to anything else in the world.
Wine barrel flooring brings in an old-world vibe and provides an elegant touch to your wine cellar.  There are three kinds of wine barrel flooring:  stave, wine infusion, and cooperage.
Stave flooring is manufactured from the outer part of the wine barrel.  It has beautiful distinctive markings that come from removed metal hoops.
Infusion wine cellar flooring is produced from the inner part of the barrel.  This wood retains the natural color of the wine which provides it with various shades of red burgundy to white.
Cooperage wood flooring is the top and bottom part of the barrel.  It prominently displays winery brandings and markings.
Cork Flooring
Aside from sealing wine bottles, cork can also be used as a flooring material for residential custom wine cellars. This material is produced from the bark of cork oak.  Like reclaimed wine barrels, cork flooring is regarded as an eco-friendly product because of its recycling and sustainability features.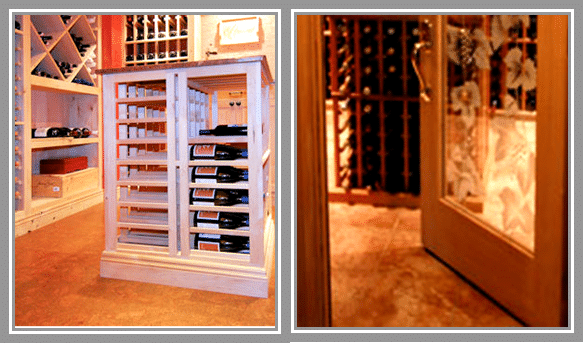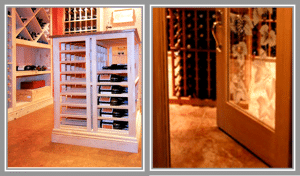 There are benefits to using cork flooring for your Chicago wine storage room.  For starters, cork has natural properties that make it highly resistant to mold infestation and less prone to decay. Cork has an excellent cell structure that makes it act like a natural shock absorber.  Another benefit to cork flooring is that it has natural insulation, as well as sound-absorbing properties.
Cork flooring is a lightweight material that is durable and affordable.  It is available in different colors and patterns that can match any décor.  Cork wine cellar flooring provides ease of installation and maintenance.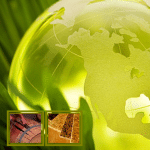 Wine barrels and cork are the material of choice for eco-minded wine collectors.  These flooring products have a lot to offer in terms of beauty and functionality, not to mention contributing to the betterment of the environment.